London Heritage Farm
About London Heritage Farm
London Heritage Farm

6511 Dyke Road
Richmond, BC V7E 3R3
Phone: 604-238-8037
Email: londonfarm@richmond.ca
Facility Hours
Sep 6-Dec 31
Farmhouse: Closed
Gardens: Open
Park hours: Mon-Sun, dawn-dusk
COVID-19
Explore Richmond's Heritage Safely
Changes include:
Mandatory masks inside building
Strict requirement of visitors to follow physical distancing guidelines
Hand sanitizer stations positioned at the entrance to each building
Adherence to the building's entry and exit rules with ropeways and signage ensuring the flow of one-way traffic
While the City encourages people to be active and enjoy the benefits of social connectivity, it also wants to ensure any restoration of services is done safely and strictly adheres to public health and WorkSafeBC guidelines.
Visit www.richmond.ca/covid19 and the City's social media channels for updates about the City's Restoring Richmond Plan.
Welcome to London Heritage Farm
Watch the video below to find out more about the origins of this farm and the London family.

London Heritage Farm - London Family
Welcome
Welcome to London Heritage Farm, a site that contains the historical London Farm House and a park overlooking the Fraser River.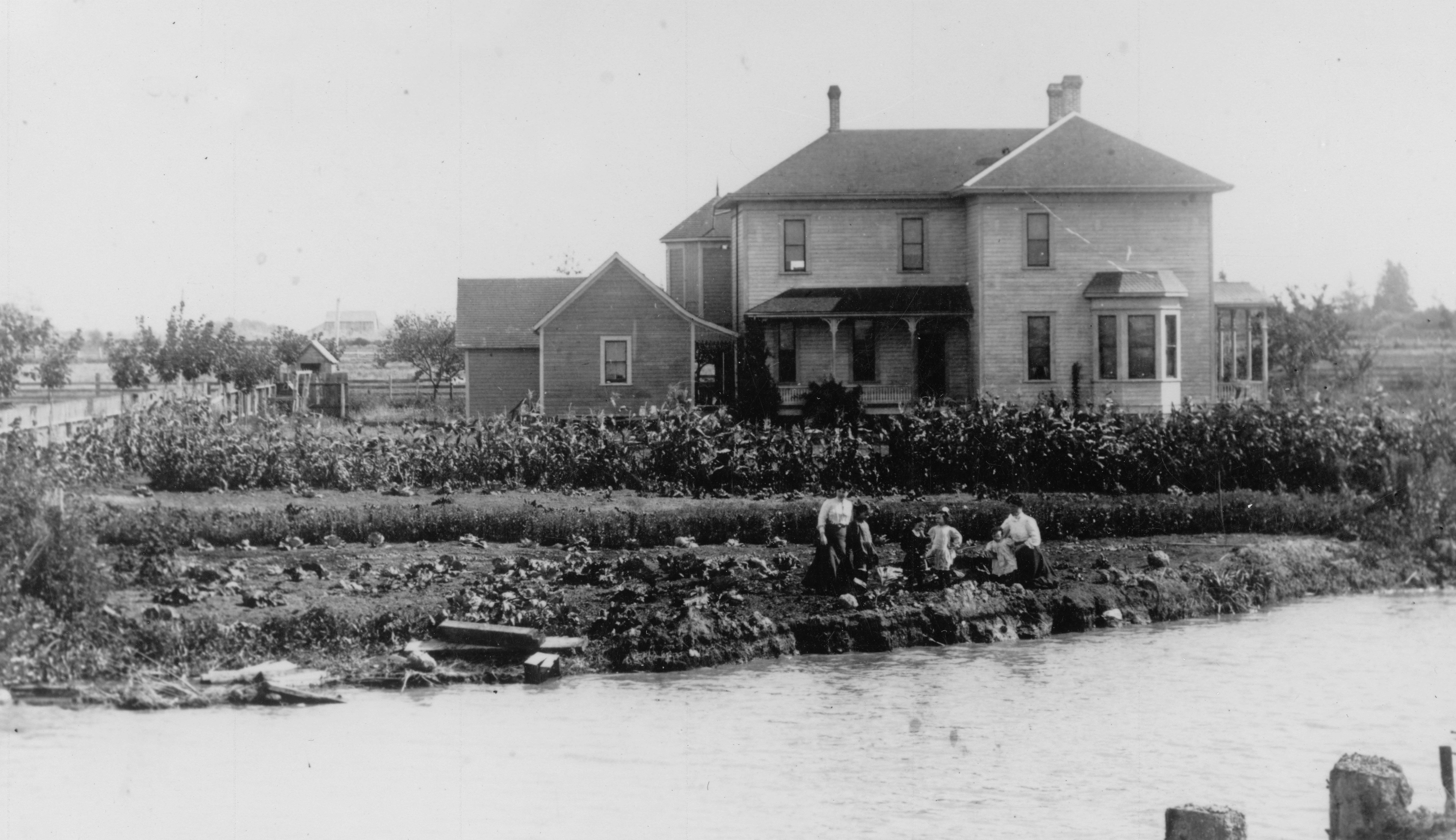 City of Richmond Archives Photograph 1984 17 74

London Heritage Farm is one of the earliest farm sites in Richmond. Charles and Henrietta London built a small farm house on the site in 1898, and as their home grew to accommodate their eight children, relatives and farm workers, the large white farm house was built in 1906.
The farm produced dairy products, oats, wheat barley, fruit from an orchard and vegetables. There were many outbuildings on site including storage sheds for dairy, preserves, salted salmon and pork. The property had a water tower, a shack for farm workers and an outhouse as well as barns for animals, hay, wagons and buggies. Unfortunately, these buildings no longer exist.
The London's lived at the farm until 1948, and after many years and many different owners, the City of Richmond purchased the house and land and, in 1978, were designated a municipal heritage site.
Currently, guests can:
explore the Victorian farm house that has been fully restored and furnished to illustrate rural life in Richmond between 1890 and 1920
learn about Richmond's agricultural history by viewing the outdoor exhibition featuring a vintage threshing machine
discover a hidden talent for butter churning, washing clothes with a scrub board, performing Victorian chores and identifying heirloom seeds through the Living History program
enjoy viewing the beautiful perennial and community gardens
Rentals
Currently on hold. Please email us at londonfarm@richmond.ca and we will add you to our contact list. We will then contact you once we begin rentals.
Master Plan

In February 2021, City Council approved a new Master Plan for the park spaces at London Heritage Farm. This Plan identifies a number of enhancements to the park spaces that aim to improve the experience and accessibility for users, heritage interpretation and the site's visibility. View the
Master Plan document
for details.
Contact Tricia Buemann at 604-238-8044 for more information about London Heritage Farm.