No. 3 Road Art Columns
The circular backlit display cases that make up the No. 3 Road Art Columns are located at the base of the concrete piers that support the Canada Line guide-way at Aberdeen and Lansdowne Stations. These unique displays showcase artwork by visual artists who work in 2D media and are part of the City's and the Richmond Public Art Program's commitment to enhance the No. 3 Road streetscape.
The No. 3 Road Art Columns Program was launched in 2010 in partnership with the Appia Group of Companies, in collaboration with InTransit BC. The inaugural exhibition was presented in partnership with the Necklace Project, an inter-municipal collaboration for public art, involving 10 local cities and newly commissioned artwork on the theme of "illuminating communities." Since then, the program has featured the work of dozens of local artists with rotating exhibitions that change twice a year.
The Art Columns program is funded from the Public Art Program Reserve supported by contributions from the Private Development Public Art Program.

Art Columns: Exhibit 17, Part I
Feb 4 - Jul 31, 2023
Exhibition Statement: This six-month exhibition showcases the work of Bernadette C De Jesus, Yanqun Xue, and Susan Viccars. The Richmond-based artists in this exhibition are exhibiting work that celebrates Richmond's local culture, history and natural heritage.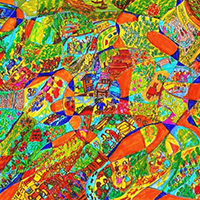 Bernadette C De Jesus
Lansdowne Station: Bernadette C De Jesus is a Richmond-based visual artist. She was born in the Philippines and she holds a BFA in Painting from the University of the Philippines. Her series of reproduced ink drawings represents Richmond's interconnected communities and the resources we share in everyday life. Individual joys, challenges and flows of emotion are symbolized in the touch of lines and vibrant colours.
1. "Inner City Living"
2. "Food Fairlane"
3. "Chromosomes of Heart"
4. "Casting Echoes to Heaven"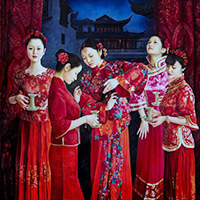 Yanqun Xue
Lansdowne Station: Yanqun Xue was born in Dalian, China and graduated from Shenyang Luxun Academy of Fine Arts in 1981. Xue's work is influenced by early Italian Renaissance painters and traditional Chinese figure painting. His series of reproduced paintings is inspired by the artist's nostalgic memories of his hometown and the experience of newcomers who arrive in this beautiful place to build new dreams.
1. "The Spring"
2. "The Pond in Winter"
3. "The Brides"
4. "The Pond in Summer"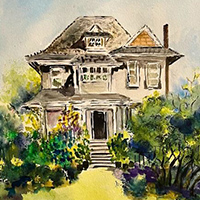 Susan Viccars
Aberdeen Station: Susan Viccars is a long-time Richmond resident and artist. Her series of reproduced paintings highlights Richmond's vanishing heritage homes. These vignettes of farm and fishing life have largely disappeared as some search for a sense of place in a modern city that is rapidly changing.
1. "Farmhouse on the West Dyke"
2. "Cottage in Steveston"
3. "Parsons House"
4. "Cottages Along Finn Slough"