Artist Designed Access Covers
In 2014, the Richmond Public Art Program launched the Cover Stories access cover art contest and received more than 150 entries. Four winning designs were by local artists Caroline Dyck, Greg Allen, Jeff Porter and Susan Pearson, and celebrates Richmond's cultural heritage and diversity. Two hundred covers were fabricated by Westview Sales Limited. The company sponsored the project and worked with the artists to create unique molds for the fabrication process.

In 2018, an additional three designs were commissioned to acknowledge Canada's 150th anniversary of Confederation by local artists James Harry, Corina Hanson and Yuting (Christine) Wei. Designs were used to fabricate an additional 180 manhole covers to be installed across the city.

These artist-designed access covers enhance the city's urban streetscape and are intended to contribute to a sense of place, remembrance and pride for years to come.

Artist Designed Access Covers Canada 150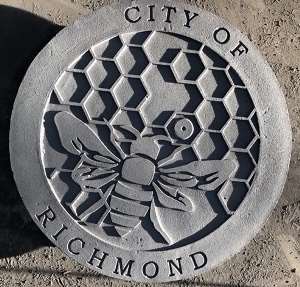 Title of Artwork: The Pollinator
Artist: Corina Hanson
Artist Statement: Our city, our country, our planet, needs space to nurture ecosystems and support biodiversity. This is global issue. Pollination and the increasing threat to our bees is a growing concern to most Canadians. Everyone can play a part in helping to save the bees and by using this idea as the basis for my design we will be bringing awareness to an important subject. Art can and should be an opportunity to create a dialogue. My hope is that when people come across the cover they will take a moment to consider the bee and reflect on this important issue. The current threat to the bees is a threat to our existence on this planet. Bees pollinate a third of everything we eat and play a vital role in sustaining the planet's ecosystems. Honey bees are disappearing globally at an alarming rate due to pesticides, parasites, disease and habitat loss.
Title of Artwork: Seven Generations
Artist: James Harry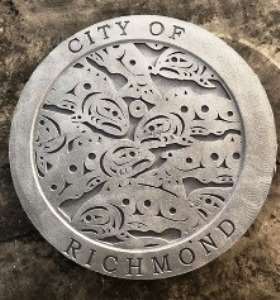 Artist Statement: The artwork is inspired by my elders explanation that we should leave our salmon for seven generations to rebuild and repopulate the species to allow us to fish again. As waterfront people, fishing for salmon was our way of life in the Squamish Nation. The design derives from the Coast-Salish people and is a distinct indigenous style from this region. By placing the design throughout the city, the art work suggests the viewer to reflect on our lost waterways and streams that were here before urban development. It also serves as a reminder that all rainwater from the streets ends up into the Ocean.
Title of Artwork: Fraser River, Working River

Artist: Yuting (Christine) Wei
Artist Statement: The design includes imagery of fishing, cityscape, as well as natural elements such as the river, fish and plants. The design illustrates how the natural environment of Richmond has nurtured the human society to flourish through agriculture and fishing. The artwork incorporates a Tai Chi symbol dividing the design into two parts, or this could be viewed as the Fraser River winding through the mountains and into Richmond. The Tai Chi symbol represents balance and harmony between complementary energies. It is the hope of the artist to establish a balance between human habitat and natural environment and minimize negative human impact on nature.
Share your photos and tell us what you think of Richmond's artist designed access covers. Tag @howartworks on Instagram #publicartrichmond.