Public Art
What's New
​Public Art Artist Calls, Workshops, Events and More
Are you interested in finding out about future Public Art Artist Calls, workshops and events? Simply email publicart@richmond.ca to be added to the Public Art list to receive future communications.

Garden Relations: Plants + humans; Gardens + communities
Tuesday, August 18, 7-8:30 pm (Pacific Time)
To register for the Zoom Presentation
Lois Klassen (Coast Salish Territory/Vancouver, Canada), with artists Amanda White (Toronto, Canada) and Chrissie Orr (Santa Fe, New Mexico), will discuss how growing gardens make relationships grow.
Amanda White is an interdisciplinary artist and researcher who works at the intersection of art, environment and culture. Her PhD, Talking Plant focused on human-plant relationships and her project, Plant Radio for Plants, is featured in the book, Why Look at Plants: The Botanical Emergence in Contemporary Art (Giovanni Aloi, 2018, Brill).
Chrissie Orr is the co-founder of SeedBroadcast Collective, which explores the interconnections between people, seeds and agri-culture through performance, listening and sharing of stories, resources and seeds. She is presently the Creative Practice Fellow of the Academy for the Love of Learning and grows ancient varieties of corn.
Lois Klassen is a participating artist in the Victory Gardens for Bees residency. Her art and research focus on participatory art in sites of high ethical demand. She is host of Reading the Migration Library and a small-scale backyard gardener.
Gardens of Our Lives: Wild Bee Flowers with Thanushi Eagalle
Tuesday, July 21, 7-8:30 pm
To register for the Zoom Presentation

Join Lori Weidenhammer, lead artist for the Victory Gardens for Diversity residency project at Terra Nova Rural Park, in a conversation with Thanushi Eagalle to talk about Thanu's love of flowers and bees, and her story of starting a floral business in Vancouver. Audience members will also get tips on growing flowers such as sweet peas and dahlias.

Thanushi Eagalle sees the world through many different lenses, one being the intersection of evolutionary biology and informal education. Bees and other insects have always cultivated inspiration for Thanu, who first dove into entomology in her second year of university. Eleven years later, she is still inspired by these tiny beings that help shape our world. Her love of growing flowers bloomed naturally alongside her curiosity for learning about nature.
Video: Sea to Sky by Thomas Cannell and Franz Mayer of Munich
Video link:

https://youtu.be/fmIPkWxV4vg
Learn about the creation of a new public artwork with this interview with Musqueam artist Thomas Cannell and Michael Mayer of Franz Mayer of Munich as they speak to the conceptualization and fabrication of Sea to Sky, a five-storey-high glass artwork to be integrated into the façade of the Paramount development in Richmond's city centre (No. 3 Road and Granville Avenue).
Richmond Has Heart Public Art Projects

June-September 2020
Richmond Public Art is launching four artist initialed projects, as part of the Richmond Has Heart Campaign developed in response to the COVID-19 crisis. The projects by local artists Keely O'Brien, Lou Sheppard, Denise Fong, Christy Fong and Marina Szijarto will promote mental health, well-being and creativity while maintaining physical distancing protocols and fostering community connections during this unprecedented, destabilizing and challenging time. For more information, visit: Richmond Has Heart.
Cycling Art Tour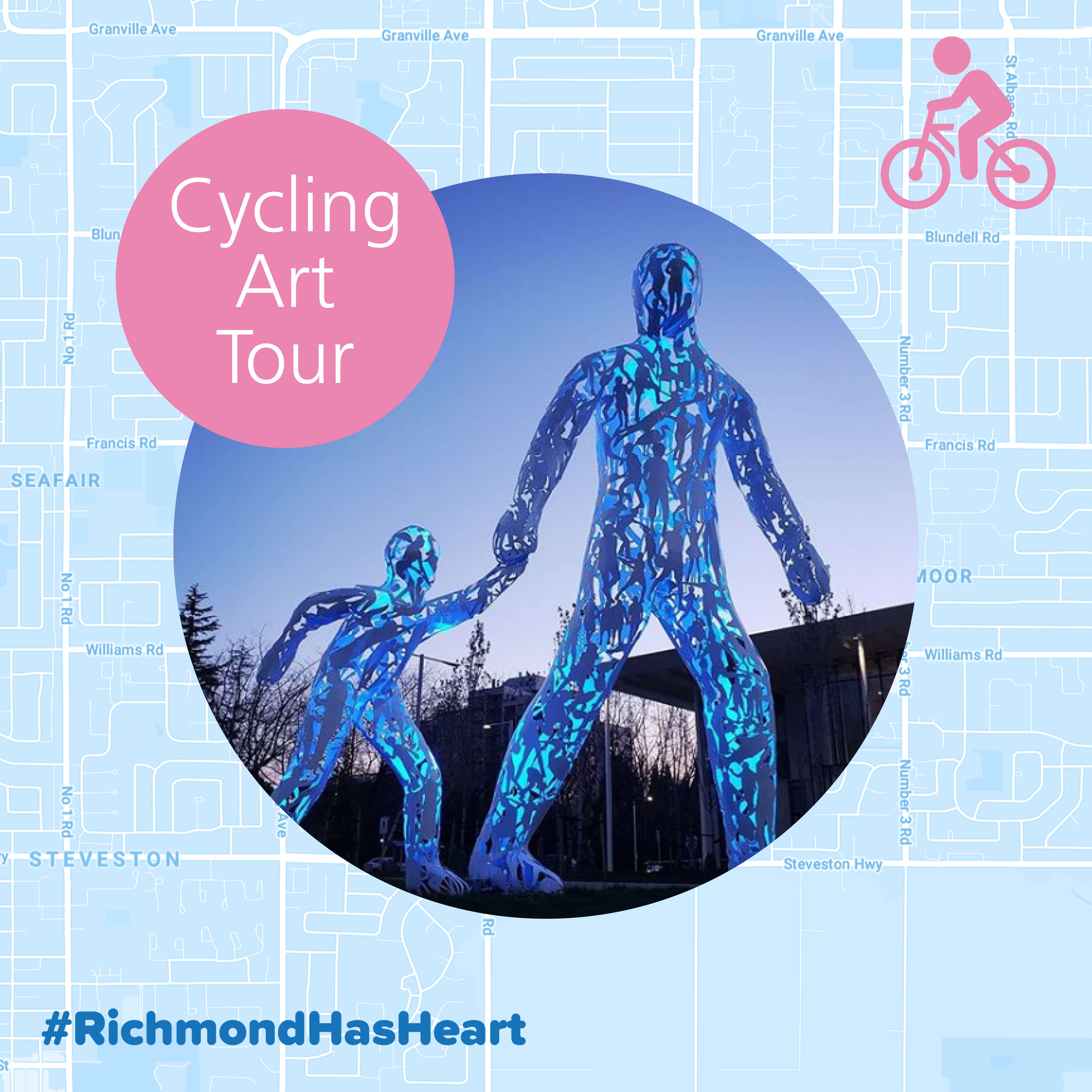 Throughout the COVID-19 pandemic, our community is finding unique ways to come together while apart, connecting through the arts and expressing their support for front line workers. Everywhere residents go they will find artful hearts and rainbows in the windows of Richmond homes and businesses.
The Cycling Art Tour has been created for residents of all ages to get outdoors and celebrate community art and Richmond Public Art in a safe way. The artworks comprising the tour underscore the power and resilience of community, connection, togetherness, home and place. All the artworks are accessible to the public regardless of facility closure status. Take the tour alone or together with your household or small pod.


Public Art Bike Tour Map
Art Tour Challenge: How many hearts can you find in the windows of homes and businesses created to show support for front line workers? Share your favourites online and tag #RichmondHasHeart.
Engaging Artists in Community Program Update
Acknowledging our Indigenous Plant Nations Virtual presentation with Lori Snyder
If you missed the live presentation.

Watch now
Learn and discover wild, native and medicinal plants that support us physically, emotionally and spiritually as we explore and experience our living world outside. Lori Snyder will introduce you to 'Indigenous ways of knowing' and these teachings will help to anchor important ways of being to help move us into an understanding and awareness of restored balance. Through stories and engaging our senses, Lori will weave a journey back to our true Nature.
Lori Snyder is a descendant from the Powhatan, Dakota, T'suu tina, Nakota, Cree, Nipissing, Dene and Anishinaabe peoples, mixed with French and Celtic ancestry. She was born and raised on the lands of the Squamish people, overlooking the Salish Sea on the Pacific Northwest Coast of Turtle Island—near Vancouver, Canada. Through Indigenous ways of knowing and pedagogies, Lori leads people of diverse backgrounds in reconnecting to the Earth's wisdom. Teaching at elementary and secondary schools, she recently facilitated a pilot project with Farm2School BC. Helping to incorporate Indigenous teachings into the curriculum, Lori supported the development of nine Indigenous foodscapes on school grounds in Vancouver. Today, Lori stewards a medicine wheel garden at the Moberly Arts and Cultural Centre. She is the Artist in Residence at Hastings Community Centre for 2020 and is part of the creative team for Victory Gardens for Diversity, an artist residency project at Terra Nova Rural Park in Richmond, working with interdisciplinary artist Lori Weidenhammer. Learn more at lorisnyder.co | @earthandcompany
​Art Wrap Program Update
​New Traffic Art Wrap Artworks!

Public Art, Transportation and Fire Services are pleased to bring some colour to Richmond's streets with the recent installation of six art wraps on Traffic utility boxes.


Andrew Briggs
​Fire Hall No. 1
Gilbert Road and Granville Ave
Andrew Briggs has commemorated the history of Fire Services in Richmond and Fire Hall No. 1 using archival photos and has interpreted Richmond's heritage into modern pop artworks.


Laara Cerman

​No. 2 Road and Moncton St.
Laara Cerman's intricate wave patterns of native plant species indigenous to Garry Point Park and the Steveston area. The photograph of Canada Goldenrod and Reed Canary grasses reference both the environments of land and sea.



​
Nora Montiel

Steveston Highway and Mortfield Rd.
Richmond photographer, Nora Montiel complements the Buddhist Temple in her response to the site on Steveston Highway. The artwork allows those passing by a glimpse behind the walls and into the inner sanctuary of the temple.

​




2020 Capture Photography Festival
Richmond Public Art in partnership with Richmond Art Gallery presents photo-based works for the Capture Photography Festival. Each installation evokes personal, historical, and spiritual intimacies that connect us to each other and our communities. The temporary works are currently on view until September 1, 2020.
Schilling's House
Emily Neufeld

Lansdowne Canada Line Station
Growing up on the Canadian Prairies, a descendant of Mennonites, Emily Neufeld's interest lies in the relationships between the environment and the people who inhabit it. Over the last two years Neufeld has visited and photographed a dozen of these empty houses, where the work takes on a performative aspect. Once in the structures, she considers the history of the inhabitants, the building with its contents, and performs interventions – creating sculptures from the various materials found within the homes and yards.
Self portrait with mended flesh
Manuel Axel Strain

Aberdeen Canada Line Station

Self portrait with mended flesh by two-spirit artist Manuel Axel Strain is a diptych depicting the artist's connection to their Grandmother. The work is born out of the artist's internalized struggle to accept their own identity. Wrapped in their grandmother's scarf, the artist's arms metaphorically carry a spiritual connection and kinship to their ancestors. With such gestures of guidance and care by the older generation, the artist reflects on the traumatic times of their life, expressed in terms of vulnerability and resilience in reference to current and historical forms of colonial violence.