Public Art
What's New
​Public Art Artist Calls, Workshops, Events and More
Are you interested in finding out about future Public Art Artist Calls, workshops and events? Simply email publicart@richmond.ca to be added to the Public Art list to receive future communications.
Financial Management for Artists
Saturday, January 30, 2021
1:30-3:00 pm
Register in advance for our free webinar.
Join Zachary Kennedy, a professional financial advisor who will offer best practices in managing finances as an artist or creative professional throughout their career. A series of example financial profiles will be presented for discussion purposes. A Q & A session will follow the presentation. Participants will be encouraged to ask questions.
Tax Basics for Artists
Saturday, February 6, 2021
1:00 – 4:00 pm
Register in advance for our free webinar.

What do you need to know to keep track of your finances and file your taxes? Join Marianna Scott from Quantum Accounting Services who will provide creative professionals with an introduction to tax management. This workshop will include information about CERB and other COVID-19 government support programs. Maximum 15 participants.
How We Make Public Art
Sunday, February 21, 2021
1:00-3:30 pm
Register in advance for our free webinar.
This discussion panel will be hosted by the Richmond Public Art Program and feature presentations by artists Germaine Koh, Sara Graham and Alyssa Schwann who have recently completed large-scale public artworks for the City of Richmond. The virtual presentation will focus on how they started their public art practice and how they produce, administer and manage large-scale public art projects. This session is ideal for emerging or mid-career artists who are interested in expanding their art practice into the public realm. A Q & A session will follow the artist presentations.
Richmond's Home of Curl'ture & Curl'munity by Mark Anderson
Designed in consultation with members of the Richmond Winter Club, Richmond's Home of Curl'ture & Curl'munity reflects the guidance and enthusiasm of the curling community. Like a storyboard, the artist depicted a variety of stories along the length of the mural to represent a number of important themes and subjects. These include the champion wheelchair athletes that frequent the club, the youth that are creating the future of curling and aspects of local geography and wildlife. The energy of the mural is intended to represent the dynamic nature of the sport and the vibrancy of the people who make up the Richmond Winter Club.
Victory Gardens for Diversity
Terra Nova Rural Park Artist-In-Residence
This year-long artist residency project led by artist, Lori Weidenhammer, Lois Klassen, Crystal Lee, Jenn Pearson, Catherine Shapiro, and Lori Snyder has come to a successful end culminating in talks, workshops and presentations during Richmond's Culture Days. If you would like to learn more and view recorded presentations from the project on bioblitzing, cooking, stitching, dyeing and making paper, visit: victorygardensfordiversity.blogspot.com.
Ladybug and the Sun by Laura Kwok
Ladybug and the Sun is a vibrant garden utopia of flowing florals and happy little critters. This mural incorporates flowers from the artist's childhood memories growing up in Richmond including buttercups, daisies, and dandelions. Other local botanicals include cranberries and cherry blossoms which allude to the city's largest agricultural crop and historical ties to one of Richmond's sister cities, Wakayama, Japan. The theme of community is prominent in the design and was also integral to the planning process. The lush tropical tones of the mural were chosen to complement the bright colours of the adjacent playground and park areas where people of all ages enjoy outdoor activities.
Public Art at Minoru Centre for Active Living

7191 Granville Avenue
On September 21, 2020, the new state-of-the-art aquatic centre at Minoru Centre for Active Living opened to the public. The facility features a 650 square metre leisure pool where visitors can interact with "Errant Rain Cloud", the latest public art work to be unveiled as part of Richmond's public art civic program. The work by artists Germaine Koh and Gordon Hicks can be found suspended from the ceiling in the natatorium. The sculptural cloud has mechanisms within it that whimsically reproduce the atmospheric water cycle. Once or twice a day (depending on the amount of activity in the pool) a brief and gentle shower falls from the cloud into the leisure pool. The natural water cycle is powered by the sun, while the interior "climate" is driven by the interaction of humans and the building's environmental systems: humidity is produced as visitors splash in the heated water. "Errant Rain Cloud" chills this moist air to produce water, much like the building's dehumidification systems — and like clouds found in the sky. For more information about other public artworks at Minoru Centre, visit:www.minorucentre.ca/public-art
A mid-way point: the present is an infinite moment

Thompson Community Centre, 5151 Granville Avenue
As part of this year's Engaging Artists in Community Program, local artists Dawn Lo and April dela Noche Milne completed a 80' x 20' ft. community-engaged mural project. Through a series of participatory artist-led workshops, including zine-making and handmade artistic postcards, community members expressed what was important to them in making the Thompson Community Centre and surrounding neighbourhood their home and a place where they want be. "A mid-point: the present is an infinite moment", depicts the community centre's ever-bustling nature. A safe place for connection where individuals from a diversity of cultures and backgrounds can come together to form long-lasting friendships, while engaging in their favourite activities and programs.
Forest Floor

Richmond Cultural Centre, 7700 Minoru Gate
Laara Cerman's series of digitally printed mixed-media works installed on the rotunda floor of the Richmond Cultural Centre invites viewers to imagine what might lie beneath, perhaps in an era far into the future, in the past, or maybe even what's currently beneath your feet. This hyper-real scene is created from digital scans of various composited, magnified elements found in the forests of coastal British Columbia, and gives us the impression of the forest trying to break through. A variety of wildflowers can be found in the artwork.
Video: Sea to Sky by Thomas Cannell and Franz Mayer of Munich
Video link:

https://youtu.be/fmIPkWxV4vg
Learn about the creation of a new public artwork with this interview with Musqueam artist Thomas Cannell and Michael Mayer of Franz Mayer of Munich as they speak to the conceptualization and fabrication of Sea to Sky, a five-storey-high glass artwork to be integrated into the façade of the Paramount development in Richmond's city centre (No. 3 Road and Granville Avenue).
Cycling Art Tour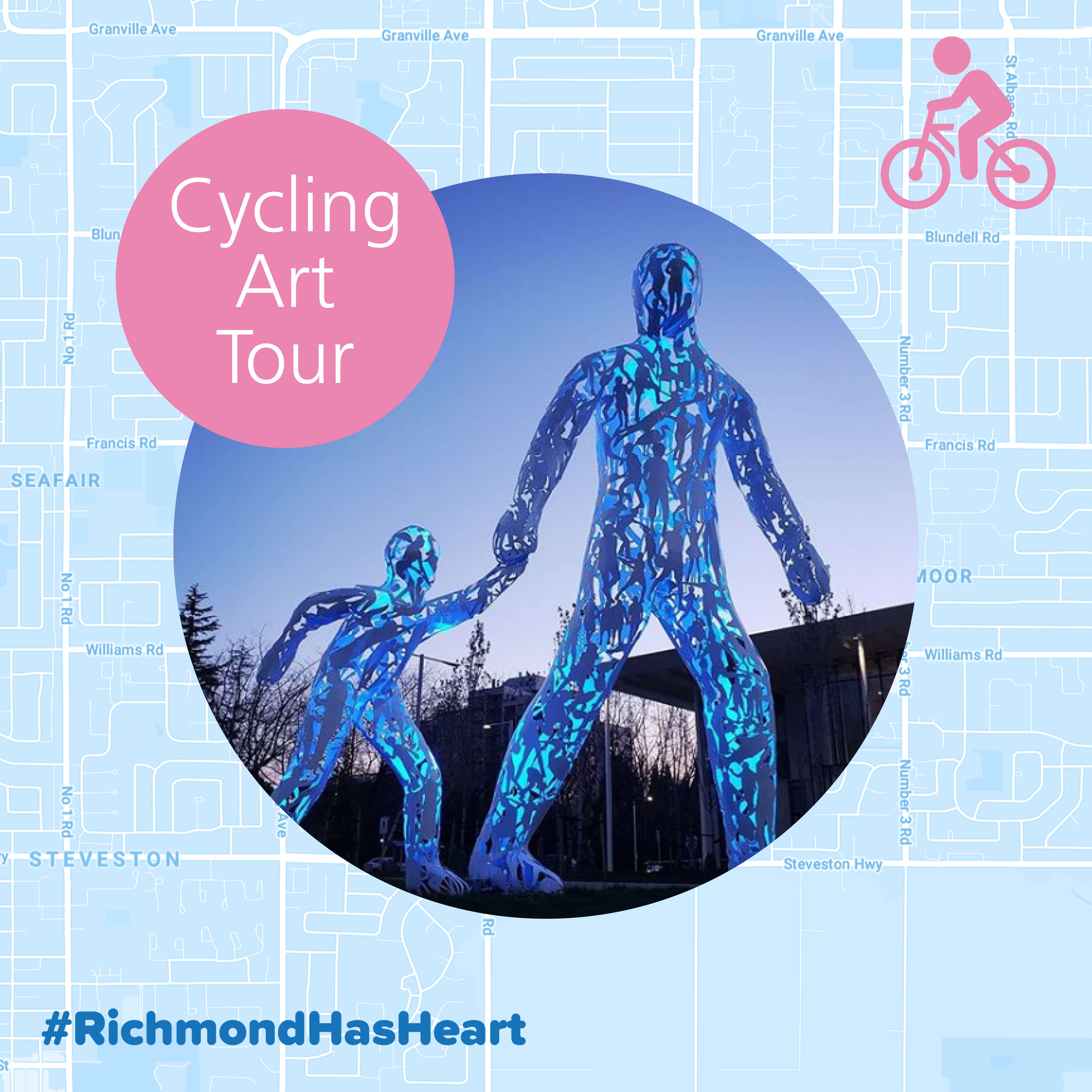 Throughout the COVID-19 pandemic, our community is finding unique ways to come together while apart, connecting through the arts and expressing their support for front line workers. Everywhere residents go they will find artful hearts and rainbows in the windows of Richmond homes and businesses.
The Cycling Art Tour has been created for residents of all ages to get outdoors and celebrate community art and Richmond Public Art in a safe way. The artworks comprising the tour underscore the power and resilience of community, connection, togetherness, home and place. All the artworks are accessible to the public regardless of facility closure status. Take the tour alone or together with your household or small pod.


Public Art Bike Tour Map
Art Tour Challenge: How many hearts can you find in the windows of homes and businesses created to show support for front line workers? Share your favourites online and tag #RichmondHasHeart.
​Art Wrap Program Update
​New Traffic Art Wrap Artworks!

Public Art, Transportation and Fire Services are pleased to bring some colour to Richmond's streets with the recent installation of six art wraps on Traffic utility boxes.


Andrew Briggs
​Fire Hall No. 1
Gilbert Road and Granville Ave
Andrew Briggs has commemorated the history of Fire Services in Richmond and Fire Hall No. 1 using archival photos and has interpreted Richmond's heritage into modern pop artworks.


Laara Cerman

​No. 2 Road and Moncton St.
Laara Cerman's intricate wave patterns of native plant species indigenous to Garry Point Park and the Steveston area. The photograph of Canada Goldenrod and Reed Canary grasses reference both the environments of land and sea.



​
Nora Montiel

Steveston Highway and Mortfield Rd.
Richmond photographer, Nora Montiel complements the Buddhist Temple in her response to the site on Steveston Highway. The artwork allows those passing by a glimpse behind the walls and into the inner sanctuary of the temple.

​



Schilling's House
Emily Neufeld

Lansdowne Canada Line Station
Growing up on the Canadian Prairies, a descendant of Mennonites, Emily Neufeld's interest lies in the relationships between the environment and the people who inhabit it. Over the last two years Neufeld has visited and photographed a dozen of these empty houses, where the work takes on a performative aspect. Once in the structures, she considers the history of the inhabitants, the building with its contents, and performs interventions – creating sculptures from the various materials found within the homes and yards.
Self portrait with mended flesh
Manuel Axel Strain

Aberdeen Canada Line Station

Self portrait with mended flesh by two-spirit artist Manuel Axel Strain is a diptych depicting the artist's connection to their Grandmother. The work is born out of the artist's internalized struggle to accept their own identity. Wrapped in their grandmother's scarf, the artist's arms metaphorically carry a spiritual connection and kinship to their ancestors. With such gestures of guidance and care by the older generation, the artist reflects on the traumatic times of their life, expressed in terms of vulnerability and resilience in reference to current and historical forms of colonial violence.