Public Art
Guides, Brochures and Links
There are a variety of ways to learn about and explore Richmond's public art. Discover them online on our
Public Art Registry
page, or take a look at our public art brochures.
Public Art in the City Brochure


You can find public art maps, guides, postcards and other educational materials at City venues such as City Hall or the Richmond Cultural Centre, all of which are also available to download below.
The 2009 Public Art Brochure is a great introduction to the early Public Art in Richmond.

Public Art Brochure






City Centre and Richmond Olympic Oval Public Art Brochure

The City of Richmond is proud to be home to a wealth of signature public artworks and is dedicated to creating a vibrant city in which to live and visit. Use this brochure as a guide to visit some of our more recent additions to the public art registry. You will discover public art integrated into parks, architectural facades, on the grounds of civic buildings and along the Canada Line skytrain stations.



Public Art Brochure





Steveston Waterfront Neighbourhood Public Art Brochure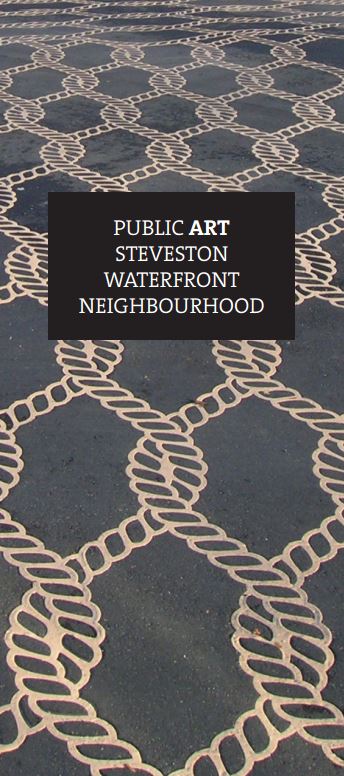 Steveston is a historic salmon canning centre located on the southwest tip of Richmond, B.C., and continues to have a historical role as a port site, business centre and residential hub in Richmond. It has valuable heritage resources that have sparked a strong desire from the Steveston community to conserve the Riverfront's heritage and significant buildings.


Steveston Village Public Art Plan

​

Alexandra Neighbourhood Public Art Brochure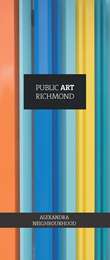 The Alexandra Neighbourhood Public Art Plan builds on the history and ecology of the Alexandra Neighbourhood of West Cambie to provide a thematic framework for the creation of public art to enrich this emerging community. Opportunities are identified for public art to play a role in achieving a connected community.

Alexandra Neighbourhood Public Art Brochure



To learn more about the Arts in Richmond download the Arts Update reports:


2017 Arts Update


2016 Arts Update


2015 Arts Update


2014 Arts Update


2013 Arts Update


2012 Arts Update


2011 Arts Update


2010 Arts Update
To learn more about Public Art download the annual reports:


2017 Public Art Program Annual Report


2016 Public Art Program Annual Report


2015 Public Art Program Annual Report


2014 Public Art Program Annual Report


2013 Public Art Program Annual Report


2012 Public Art Program Annual Report


2011 Public Art Program Annual Report


2009-2010 Public Art Program Annual Report


2009 Public Art Annual Progress Report
Back to Top

Other Resources
City of Vancouver
In 2008, Vancouver City Council adopted a new version and policy framework for the City's Public Art Program and the Civic Public Art Collection, updating its original policy that had been in place since 1990 and had been originally modelled on programs in Toronto, Seattle and Portland. The 2008 program has been expanded to include artist-initiated projects, artist residencies, partnerships with curators and others, temporary projects and platforms. It also increases artists' participation in the development of the city, in an effort to integrate public art with all city planning processes and public realm plans, including transit and interpretive plans.
www.city.vancouver.bc.ca/commsvcs/oca/publicart/
Creative City Network of Canada
The Creative City Network of Canada (CCNC) is a national non-profit organization made up of municipalities, arts organizations and individuals working to support cultural development in their communities. The CCNC is committed to connecting everyone involved in public art such as artists, public art officers, curators, conservators, installation crews, foundries, private donors, businesses and citizens to raise the level of Public Art practice in communities across Canada.
Creative City Network of Canada - Public Art Network
City of Cincinnati
Downtown Cincinnati offers an outstanding collection of public art that is a 125 year legacy of the city's history, cultural attitudes and aesthetic taste. Earlier works use the human figure in heroic or allegorical monuments to commemorate people or events important to local history. Recent additions are abstract forms which have no recognizable subjects, but instead express thoughts or emotions.
http://www.cincinnati-oh.gov/cityparks/pages/-4317-/
City of Los Angeles
Los Angeles is a modern city with a large and diverse ethnic population. This site documents public art works, sculptural works, mosaics, and murals, in the downtown area, the University of Southern California, and other places in the city.
http://www.publicartinla.com/
City of Chicago
Chicago's spectacular City'scape is adorned with public art. Artworks are located in every neighbourhood in the city, in fire, police and transit stations, branch libraries and other municipal facilities.
City of Chicago Tourism
City of Albuquerque
In 1978, the City of Albuquerque passed the Art In Municipal Places Ordinance "to promote and encourage private and public programs to further the development and public awareness of, and interest in, the visual arts and fine crafts, and to encourage the integration of art into the architecture of municipal structures".
http://www.cabq.gov/publicart/
City of Portland
The Portland Public Art Program commissions art that engages with the surrounding environment to create, enrich, or reveal a sense of place, and to express the spirit, values, visions and poetry of place that collectively define Portland.
http://www.racc.org/publicart/
City of Seattle
Design team projects, which bring artist, architects and design professionals together to work collaboratively on the overall concept for buildings, landscapes, utilities or major planning projects. Design team projects use artists' skills to transform environmental design and integrate artists' thinking into the fabric of construction.
http://www.seattle.gov/arts/publicart/default.asp
Back to Top