Richmond Art Gallery
About the Gallery
The City is implementing the Restoring Richmond Plan, a carefully planned step-by-step approach to reopening services, amenities and facilities impacted by COVID-19. See Affected City Services & Facilities for current service and amenity information.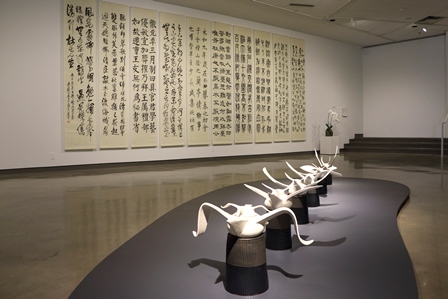 The Transformation of Things exhibition at RAG, 2016
The Richmond Art Gallery is the City of Richmond's Public Art Gallery supported by the Richmond Art Gallery Association. RAGA is an independent, non-profit society formed to support the public, non-profit gallery of the City of Richmond.

The Richmond Art Gallery plays a dynamic role in the growth of visual art in Richmond, and is a vital part of the contemporary art network in British Columbia and Canada. Through excellence in exhibitions and education, the Richmond Art Gallery strives to enhance an understanding and enjoyment of contemporary art. The art gallery features exhibitions of regional, national and international contemporary works of art.

The Richmond Art Gallery has been a primary source of art education and enjoyment in the community for over 25 years. The Gallery plays an important role in bringing contemporary art expertise to children, youth and adults in an understandable and interesting manner. The Gallery offers an innovative and diverse program of exhibitions, workshops, lectures, as well as outreach programs which focus on contemporary art and art issues.

Take a tour of the Richmond Art Gallery

Press the play button and then the square button in the bottom, right-hand corner to watch the video in full screen HD.
«
For more information about Richmond Art Gallery, visit
http://www.richmondartgallery.org
Please point your mouse on Art Gallery in the main menu on the left to see the list of topics in the fly out menus.