Arts Centre
About the Arts Centre
Richmond Arts Centre

180-7700 Minoru Gate
Richmond, BC V6Y 1R9
Phone:
604-247-8300
Email:
artscentre@richmond.ca

Cultural Facilities Map

Check out the current and upcoming programs!
3 Ways to Register

Select the BROWSE & REGISTER button below
604-276-4300, Mon-Fri, 8:30am-5:00pm

In-person

at any community facility. Note:

Debit, cheque and cash are also accepted when registering in person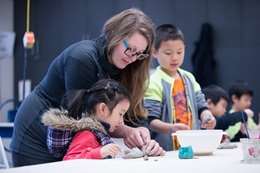 Other Arts Centre Programs

Select one of the areas below for fall, winter and spring season program details, including how to register:
Dance and Movement
Drama
Music
Visual Arts
Media Lab
Facility Hours
Mon-Fri: 9:00am-9:00pm
Sat & Sun: 10:00am-5:00pm

National Day of Mourning
Mon, Sep 19: 9:00am-9:00pm
National Day for Truth and Reconciliation Hours
Fri, Sep 30: 10:00am-2:00pm
Facility Staff
Program Manager, Community Cultural Development:
Camyar Chaichian
Arts Programmer:
Todd Evanger
Arts Programmer:
Amélie Nikitin
Arts Leader: Christine Corris-Wingfield
Arts Facility Clerk: Aliah Pingoy
About the Arts Centre

The Richmond Arts Centre provides high-quality arts education opportunities in a wide variety of disciplines, including visual arts, dance and movement, music and theatre. The centre is also home to 12 local arts organizations known as the Resident Art Groups.

The vision for the Richmond Arts Centre is to be the hub of artistic opportunity within Richmond, activating and inspiring artists and community members to connect through the arts. The creative contributions of Richmond residents, through dance, theatre or visual arts has a significant positive impact on community health and celebrates the vibrancy of Richmond as a diverse and dynamic city.

The Richmond Arts Centre is also home to the Children's Arts Festival.

Located on the second floor of the Richmond Cultural Centre, the Richmond Arts Centre shares its vibrant location with the Richmond Library, Richmond Museum, Richmond Archives and the Richmond Art Gallery.

The Richmond Arts Centre, as part of the Community Services Division, is one of the many reasons Richmond is becoming internationally-recognized as one of the healthiest and most vibrant places to work, play and live.
Watch the 2021 Arts Update Video

Arts Services Year in Review 2021
Related Pages for this Topic