Events & Activities
Doors Open Richmond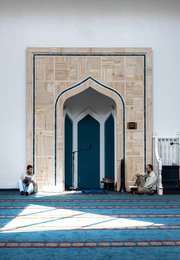 The 14th annual Doors Open Richmond was held online this year from June 5 to 12, offering residents across the Lower Mainland an opportunity to come together safely during the pandemic.
#DoorsOpenOnline
During the week-long online event, new videos and behind-the-scenes footage from more than 30 partner sites were featured here on the website as well as Richmond Museum's social media channels.
Each site represents a unique aspect of Richmond's rich and storied heritage. The annual event celebrates cultural diversity and raises civic awareness by offering a look inside places of worship, cultural and civic centres, local businesses, museums and heritage sites.
The Richmond Museum Society, in partnership with the City of Richmond, and with the support of the Government of Canada, was thrilled to be able to present the event online and thankful to its partners for adapting their activities under these continued extraordinary circumstances.
For more information, visit the Richmond Museum website.
About Doors Open Richmond
Doors Open is an annual event presented by the Richmond Museum. In 2020, more than 8,000 people viewed the first virtual edition, which offered behind-the scenes access to sites around the city.
Find Us on Social Media


Facebook: @RichmondMuseum


Instagram: @richmondmuseum


Twitter: @Richmond_Museum
#DoorsOpenOnline
Contact Us
Email: doorsopen@richmond.ca
Mailing Address:
Doors Open
c/o Richmond Museum
7700 Minoru Gate
Richmond, BC