Events & Activities
Doors Open Richmond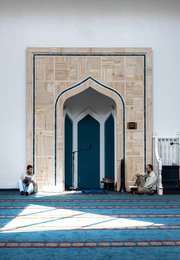 While nothing can replace face-to-face interactions, the 13th annual Doors Open Richmond will move online in 2020 to offer Richmond an opportunity to "come together" during a prolonged period of social isolation.
#DoorsOpenOnline
In order for all sites to participate meaningfully in an online event, we have expanded the event days to June 6-13, 2020. We fully intend to return as an in-person event in 2021.
The online event will feature digital content that celebrates cultural diversity and promotes civic awareness from over 30 places of worship, cultural centres, ethnic and local businesses, as well as museums, heritage sites and civic spaces.
The Richmond Museum Society, in partnership with the City of Richmond and with the support of the Government of Canada, is thrilled to be able to present the event online and thankful to its partners for adapting their activities under extraordinary circumstances.
For more information, including the complete list of partners and activity schedule, please visit the Richmond Museum website.
About Doors Open Richmond
Doors Open is an annual, free two-day event presented by the Richmond Museum. Last year, over 15,000 people visited our sites, which included the Az-Zahraa Islamic Centre, Eastern Catholic Church, Ling Yen Mountain Temple and Nanaksar Gurdwara Gursikh Temple, and more.

Find Us on Social Media


Facebook: @RichmondMuseum


Instagram: @richmondmuseum


Twitter: @Richmond_Museum
#DoorsOpenOnline
Contact Us
Email: doorsopen@richmond.ca
Mailing Address:
Doors Open
c/o Richmond Museum
7700 Minoru Gate
Richmond, BC