Community Services
Parks
The Parks Department is responsible for the design, construction, and maintenance of City parks, trails and green spaces including maintenance on medians for section line roads, subdivision/cul-de-sac, walkways & boulevards. This section also coordinates sports programming and special events in the City's parks, and is involved in many civic beautification initiatives.

Parks is staffed by park planners, park foremen, technologists, sports/special event coordinators, and research staff who work in consultation with the community to provide a variety of parks-related services and opportunities.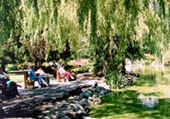 The Parks section manages over 1,500 acres of open space including 6 Community Parks, 68 Neighbourhood Parks, 8 City Wide Parks, 7 Special Purpose Parks, 50 km. of Trails, and several Natural Areas. As well, parks staff make recommendations for land acquisition for park, trail, and beautification purposes.
Beyond park and trail design, construction, and maintenance projects, other initiatives and special projects coordinated by this section include: the Street Banner Program, Tree Planting Program, the Richmond is Blooming Beautiful Garden Contest, a variety of sports tournaments and city-wide special events, and the City's participation in the national Communities in Bloom Program.

The Parks Department is broken into the following sections:
Contacts: Parks

Related Topics: