Members
Councillor Bill McNulty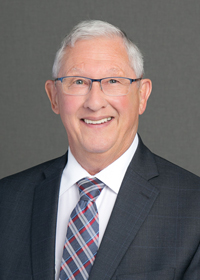 Bill McNulty has lived in Richmond for 47 years and has served continuously on Richmond City Council since 1993. He endeavors to ensure that Richmond remains a safe, welcoming and inclusive community.
Bill has been active as a community volunteer for many years, helping make a difference in the lives of others. He has been a coach and sports administrator and is the Founder and Life Member of Richmond Sports Council. He is Co-Chair of the 55+ British Columbia Games to be held in Richmond in September 2020. Bill is a sports historian, an expert in local history, and a published author.

Bill is a Life Member of the Richmond Women's Resource Centre as well as the Richmond Arts Coalition and the Richmond Arts Connection. He served on the Richmond Library Board for many years, and is a strong advocate and builder of the library system in Richmond.

Continuing his work as a former educator, Bill is presently serving his 10th three-year term on the Academic Senate at the University of British Columbia. He has also served as a Rotarian for over 29 years, working tirelessly in service to his community. Bill has fulfilled the role of the Western God of Wealth (Cai Shen) at the Chinese New Year celebrations in Richmond for the past two decades at the request of the Asian community.

Bill's commitment to excellence in infrastructure is evident by his council support of the development of a new seniors' centre, new aquatic centre, new community centres in Steveston and downtown north, as well as a myriad of other projects. Over the past three years, his campaign to upgrade health services for Richmondites by replacing aging hospital infrastructure met with success when the provincial government recently committed to building a new Richmond Hospital Acute Care Tower.

Bill has been recognized both provincially and nationally for his accomplishments. In 2005, he was presented the British Columbia Community Achievement Award by former Premier Gordon Campbell and Lieutenant-Governor Iona Campagnolo. In 2013, he was awarded the Queen Elizabeth II Jubilee Medal by Richmond Member of Parliament Alice Wong.

Bill represents Richmond as the first alternate to the first Director, Mayor Brodie, on the Metro Vancouver Board of Directors. He is a director of E-Comm (911) and has represented the city since 2008. An advocate for affordable housing in Richmond, he has served as a Director of the Metro Vancouver Housing Committee for the past 13 years. Bill is Chair of Richmond's Community Safety Committee, Vice-Chair of the Planning Committee, and is a member of the following Standing Committees of Council: General Purposes, Finance, and Parks, Recreation and Cultural Services. He is the City Council liaison to the following city advisory committees, organizations, and community associations: Richmond Sports Council, the Steveston Historical Society, the Steveston Historic Sites Building Committee, the Arenas Community Association, and the South Arm Community Association.
To contact the Mayor's Office or the Councillor's Office see
City Contacts
.