City of Richmond becomes Metro Vancouver's first certified Bat Friendly Community
21 January 2020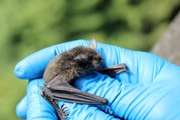 The City of Richmond has officially been designated the first certified Bat Friendly Community in Metro Vancouver – recognizing these furry, warm blooded mammals as valuable components for a healthy natural environment.
The certification is from Community Bat Programs of BC, a volunteer organization of biologists that promotes awareness and stewardship of bats across the province. Richmond is only the third community to receive the designation behind Dawson Creek and Peachland, and reflects the City's commitment to protect and create bat habitat, provide information to the public regarding bats and to promote bat education in the community.
"The City of Richmond has a long and proud history of agriculture and bats are an important part of our ecosystem," said Mayor Malcolm Brodie. "Bats are crucial to reducing mosquitoes and insects that can have a negative impact on farmlands and forests. The more we can protect them and build their population, the healthier our environment will be."
Richmond City Council has adopted several policies and initiatives to protect and promote its ecological network and biodiversity. These include the Terra Nova Rural Park Bat Habitat and Monitoring Program, Bridgeport Industrial Park Pollinator Pasture and Terra Nova Public Art Pollinator Meadow, Enhanced Pesticide Management Program, and Riparian Response Strategy. Information on the City's Sustainability and Environmental initiatives and polices can be found at www.richmond.ca/sustainability.
Presenting the certification to Mayor Brodie at a recent Council meeting, Danielle Dagenais, Metro Vancouver-Squamish Regional Coordinator for Community Bat Programs of BC, said "Richmond is a leader with its commitment to managing and conserving the local bat populations." She continues, "Several bat species including the little brown bat, local to the Metro Vancouver area, is on the federal endangered species list. Richmond's work in areas of ecological management, cosmetic pesticides use and riparian reclamation is helping to strengthen that species, as well as other local bat populations."
In the coming months, City staff will develop and offer innovative ways to empower residents, businesses and developers with opportunities to implement bat protection best practices. In partnership with Community Bat Programs of BC, the City will present a series of presentations for all ages at the Richmond Nature Park during Earth Week in late-April. The City is also planning to install a Bat Condo in Terra Nova Park, a specially-built structure to house up to 3,000 of the nocturnal insect eaters. Special activities are also in the works for the summer period when bats are most active, as well as during Bat Week 2020 in late-October.
The City has offered a variety of public awareness and education programs about bats for several years. It unveiled a 'Batabase' at its 2019 Public Works Open House, an interactive map where community members marked the location of their bat sightings and learnt how to attract bats and protect their habitat.
Bat education for elementary school children has also been an important part of the programming at Richmond Nature Park. Last year, over 1,000 students attended 'All About Bats' workshops that provided information on bats, bat conservation and the white nose syndrome that could threaten our bat populations. Similar numbers of students are expected during the 2020-2021 school year.
For more information on the City of Richmond being a Certified Bat Friendly Community, visit richmond.ca/wildlife and bcbats.ca.