Richmond Olympic Oval marks Vancouver 2010 Olympic and Paralympic Winter Games anniversary
Richmond Olympic Oval News Release

Jan 28, 2020
Free celebration events – February 21-23
Richmond, BC – A decade ago, the eyes of the world were on Richmond and the Richmond Olympic Oval as a Venue City and host venue for 12 medal events at the Vancouver 2010 Olympic Winter Games. As a community we welcomed the world, sang the national anthem on the Canada Line with passion, carried the torch through Richmond and collectively ignited a flame of Canadian pride that has been burning strong ever since.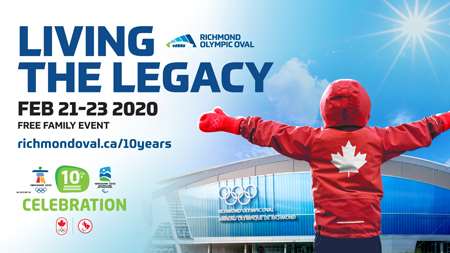 "In the ten years since Canada proudly united wearing the maple leaf, the Richmond Olympic Oval has become a living legacy of the games," said City of Richmond Mayor Malcolm Brodie. "During the Olympic Games, the Oval hosted 12 long track speed skating events and since then has become a true sport and fitness destination that is a lasting legacy for the Olympic Games, our country, and our community."
Today, the Richmond Olympic Oval features facilities for sports like basketball, climbing, volleyball, hockey, rowing, table tennis, hockey and more. Athletes at every stage of their sport and fitness journey come to the Oval from across BC, Canada and around the world to learn, train, push their limits and exceed their goals.
To celebrate this historic anniversary, the Richmond Olympic Oval is hosting a three-day celebration of all things sport and all things Winter Olympic Games from Friday, February 21 to Sunday, February 23.
Activities will include public skating, admission to the Richmond Olympic Experience, Canada vs. USA Women's Para Ice Hockey exhibition games, speed skating demonstrations, and autograph signings with Canadian Olympians. Along with that will be photo opportunities on the Vancouver 2010 Olympic Podium complete with replica torch and medals, figure skating shows by Connaught Figure Skating Club, an activity area previewing the upcoming CARHA Hockey International World Cup Kids Zone, and much more.
For more information, please visit richmondoval.ca/10years
About the Richmond Olympic Oval
The Richmond Olympic Oval provides sport, health and fitness activities, skill development pathways and role-model leadership to all ages and skill levels, contributing to the improved health and wellness of the community and to the international success of athletes wearing the maple leaf.
Media Contact:
Brianna Fee
Richmond Olympic Oval
Email: bfee@richmondoval.ca
Tel: 778-686-6225