Application Process
Useful Information
People, Excellence, Leadership, Team, Innovation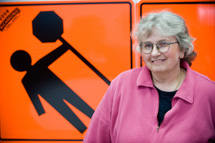 "I heard that the City of Richmond was one of the best places to work for, and that, along with seeing all the smiling faces attracted me to come and work for the City. It has a good atmosphere, good team work and good benefits."

Tips for Applying
To make the most of your application and bring you closer to a rewarding career with the City of Richmond, we've compiled a list of helpful hints to maximize your hiring potential. The following elements are essential for every application:
The competition number and position title must be clearly displayed on the resume, cover letter and all related supporting documentation
You must submit a separate resume and cover letter for every competition for which you are applying
Be sure to indicate your current phone number where you can be contacted
Review your resume and cover letter thoroughly to ensure there are no spelling or grammatical mistakes
Read the position requirements carefully and tailor your resume accordingly; include all relevant experience and education related to the position
Ensure that your resume is submitted on or before the closing date of the competition
Be prepared to show proof of qualifications, including educational achievements, specific to the position
Ensure that you are legally entitled to work in Canada
Foreign Credential Recognition
Foreign Credential Recognition is the process of verifying that the education and job experience obtained in another country are equal to the standards established for Canadian workers.
Positions at the City of Richmond are restricted to those legally entitled to work in Canada. More information on credential evaluation, work permit options, and finding a job in Canada is available on the following Government of Canada websites:
www.goingtocanada.gc.ca
and
www.workingincanada.gc.ca/tool/
.
| | |
| --- | --- |
| | "I am happy to know that the City is always willing to invest in its people and to give staff a chance to work in areas that they are passionate about and willing to learn. If you have the desire to give the best in everything you do, you will find an organization that supports you." |