Our Commitment
Work Life Balance and Rewards
People, Excellence, Leadership, Team, Innovation
Career Development Opportunities
The City of Richmond encourages employees to pursue professional development and growth by offering a diverse range of career opportunities in a variety of fields. For more information on career advancement opportunities, please visit our People Development section.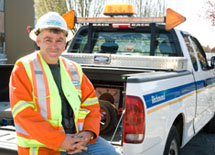 "I remember when I first started working here I always wanted to be a Supervisor. The City gave me a lot of opportunities to choose where I wanted to go. I've gained experience in all kinds of equipment. They sometimes call me Jack around here, as in 'Jack-of-all-trades', because I've done it all. Then the City helped me get my Class Three with air license, and now I can drive the truck I always wanted to drive."


Telecommuting
The City of Richmond believes strongly in facilitating a healthy work/life balance for employees. We recognize that many individuals face extraordinary challenges while trying to meet the demands of their personal and professional schedules. In compliance with collective agreements, we may accommodate requests for telecommuting, with approval on a case-by-case basis.
City Vehicles
The City of Richmond maintains a fleet of City vehicles assigned to employees for the purposes of carrying out their duties. In the event that a City fleet vehicle is unavailable, City employees are compensated for using their personal vehicles for business use through a pre-determined mileage premium rate.
Carpooling
Carpooling is a relatively easy and cost-effective way for individuals and companies to reduce their impact on the environment. The City of Richmond's Carpool Program permits the use of a designated fleet vehicle to be used for the purposes of commuting to and from work with a minimum of three employees per vehicle (including the driver).
Vehicle Allowance
Non-union (Exempt) employees may be eligible for vehicle allowance depending on position.
Staff Bicycle Use
Given the close proximity of various City offices located away from City Hall and the Public Works Yard, bicycles are available for staff to use for City business. Before using a bicycle, employees are required to take a two-hour course that provides a basic overview of bicycle skills and safety. Bicycles are available at most Community Centers, the Parks Division, and City Hall. Approved helmets must be worn at all times.
Fitness Centre
The fitness centre at Richmond City Hall is open 24 hours a day to employees for a nominal membership fee.