Arenas
Public Skate Schedule
Richmond Arenas offers a variety of public skate sessions for everyone to enjoy. These sessions are offered at scheduled times at Minoru Arenas and the Richmond Ice Centre.
2014 Arenas Summer Public Program Schedule
2014 Summer Break Schedule
Arenas Summer Daycamp Calendar 2014
Did you know?

Richmond Arenas offers week-long daycamps!  Activities include: bowling, swimming, skating, movies, soccer, hockey, field sports and arts and crafts.
Minoru Sports Camp - 9:30am to 3:30pm

July 21-25
July 22-Aug 1
Aug 5-8
3 Ways to Register:

Online:
www.richmond.ca/register
; Call Centre 604-276-4300; In person during facility hours.
Helmet Policy

The City strongly recommends wearing a CSA approved hockey helmet to prevent injuries during public skating sessions and for all programs at the Richmond Arenas. Helmets are available for use during sessions at no extra charge.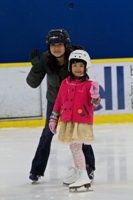 Helmets are approved for each sporting activity to best protect you during a specific activity, for example, hockey, cycling and boarding.
A sport specific helmet cannot prevent all head injuries in all sports. In addition, helmets have a certification from CSA that lasts for only a certain time period so to ensure you are protecting yourself by wearing an activity specific helmet check that the CSA certification is current. For all skating and ice- related sports it is strongly recommended that you wear a hockey helmet.
For your safety and enjoyment
always skate under control
watch out for others
skates must be worn at all times on the ice surface
refrain from carrying children while on the ice
skate in designated areas
remove yourself from the ice surface and use the benches or bleachers if you need to sit down or rest
keep food and beverages in the lobby area
obey all instructions from staff
avoid using electronic devices while on the ice
have fun!