About Parks, Trails & Cycling
Events & Activities
Parks Programs staff and community partners plan, coordinate and facilitate many events throughout the year to provide opportunities for Richmond residents and visitors to learn about and connect with nature, urban wildlife and the local environment. 

Richmond Nature Park Location Map


Terra Nova Rural Park Location Map

Exotic Reptile Show
Richmond Nature Park

Date:
Saturday & Sunday, March 15 & 16
Time:
11:00 am - 4:00 pm
Drop in to see snakes, lizards and geckos. This is a great opportunity to talk with the people who know reptiles best. Presented by the West Coast Society for the Protection and Conservation of Reptiles.
By donation

Reptile Show Poster
Hummingbird Homecoming

Richmond Nature Park

Date:
Sunday, April 20
Time:
11:00 am - 3:00 pm
The hummingbirds are back! Learn all about these exquisite birds, how to attract them to gardens and how they feed and make their nests. Ongoing presentations offered throughout the day.
By donation
Owl Show

Richmond Nature Park

Date:
Sunday, May 11
Time:
11:00 am - 3:00 pm
Drop in to see this show of live owls by the Orphaned Wildlife Rehabilitation Society and get some great photos of these amazing birds.
By donation


Slugfest
Richmond Nature Park

Date:
Sunday, June 1
Time:
1:00pm - 4:00pm
Join the fun and games dedicated to slugs and their people. Contest categories include beauty, heavyweight and largest and smallest slug, all culminating in the grand finale Great Richmond Slug Race. No registration required.
By donation

Nature In Your Neighbourhood
Terra Nova Rural Park

Date:
Saturday & Sunday, June 7 & 8
Time:
10:00am - 4:00pm
This road show is a great chance to learn about the urban wildlife that makes Richmond home! An adult must accompany children.
Free

Eagle Watch

Britannia Shipyards National Historic Site

Date:
Sunday, June 15
Time:
11:00am - 3:00pm
Richmond is home to over 15 pairs of nesting bald eagles. At this session, telescopes and binoculars are available to view a nest from Britannia Heritage Shipyard in Steveston.
Free

Partners For Beautification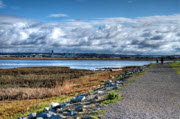 The City of Richmond actively supports park, trail, street, and natural area clean-ups by local businesses and community organizations year-round through the Partners for Beautification program. This program provides an opportunity for residents to become actively involved in the beautification and stewardship of their community by adopting public spaces and keeping them clean and green.
Partners for Beautification volunteers demonstrate the power of working together to make a difference in our shared environment. For more information, visit Partners For Beautification.
For more information about these and other related programs contact:

Rich Kenny
Community Facilities Programmer
Phone: 604-718-6185
Email: Rich.Kenny@richmond.ca