Interurban Tram
About the Steveston Interurban Tram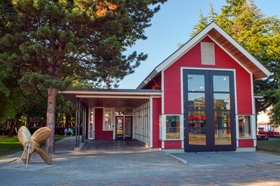 Steveston Interurban Tram Building
4011 Moncton Street
Richmond BC V7E 3A8
Phone: 604-238-8081
Email: interurban1220@richmond.ca

Hours
Summer: July 1 - September 1 
Tuesdays-Sundays 11:00 a.m. to 5:00 p.m.
Closed Mondays except for September 1
Winter: September 2 - June 30
Saturdays & Sundays 10:00 a.m. to 4:00 p.m.

Welcome to the Steveston Interurban Tram
The Interurban tramcar 1220 is the largest artefact in the City of Richmond's artefact collection.
A History of the Interurban Line
The rail line on Lulu Island, built and owned by the Canadian Pacific Railway in 1902, ran freight and passenger steam trains. In 1905, the CPR leased the line to the BC Electric Railway Company (BCER), which electrified the line. Three Interurban tramcars began running between Steveston and Vancouver.
In 1913, BCER responded to an increase in demand for services on Lulu Island by buying 28 additional trams from the St. Louis Car Company in Missouri. Among these was Tramcar 1220, which today is the largest artefact in the Richmond Museum's collection.
The Interurban line contributed to the development of Richmond's city centre. The Interurbans and the people who worked on them became an important and cherished part of the community.
Unfortunately, the Interurbans did not survive the post-war prosperity that led to an explosion in the number of automobiles on the roads and an expansion of new suburbs not serviced by rail. On February 28, 1958, the final Interurban tramcar rolled the rails between Marpole and Steveston, marking the end of a definitive era for the Richmond community and for transportation history in BC.
Of the 28 original 1200 class tramcars, five survive today including Car 1220 at Steveston. The other four surviving "sister" tramcars are the 1223 located at Burnaby Village Museum, the 1225 at Surrey operated by the Fraser Valley Heritage Railway Society, the 1231 in storage at False Creek in Vancouver and the 1235 in eastern Canada.
Restoration
To find out more about the interurban tram car restoration, click here.

If you would like to become a part of the volunteer restoration team, please send an expression of interest to interurbantram@richmond.ca or contact Rebecca Forrest, Curator, Richmond Museum & Heritage Services. Tel: 604-247-8331.