Richmond Museum
Exhibits
Museum Exhibits
In a 2000 square-foot gallery space in the Richmond Cultural Centre, the Richmond Museum displays regularly changing exhibits throughout the year that cover a multitude of topics reflecting the society's mandate. Topics have included, First Nations, Finn Slough, pioneer history, heritage and environmental issues, multiculturalism, aviation, the Interurban railway and archaeology.

For information on our exhibition program contact our Curator of Exhibitions
at 604 247-8333.

Current Exhibition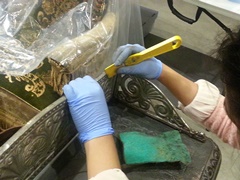 Interwoven World
November 6, 2014 - July 2015

 Exhibition Poster
Explore how western fashion has been influenced for centuries by diverse cultures around the globe. Discover how our clothes, jewelry and army uniforms have 'borrowed' everything from silk to khaki to cotton—and adopted the lampshade look, harem pants and other surprising styles!

Past Exhibition

Language of Learning
February 25, 2014 - October 2014
This exhibition showcases the evolution of education in Richmond, from the early one-room schools to the development of technical schools, trades schools and colleges. Non-traditional educational experiences and the concept of life-long learning will also be explored. The exhibition will draw upon the Museum's own collection of education artefacts and relevant materials gathered from other institutions and the community. 

City Hall Exhibits
The Richmond Museum displays exhibits in five display cases on the main floor of Richmond City Hall. Three of the cases feature Gifts to the Mayor; the remaining three have regularly changing topics.
Remembrance Day
November 4-18, 2014
King George V created Remembrance Day in 1919 to commemorate the soldiers lost in World War I. As this year is the 100th anniversary of the commencement of the "Great War," the Museum's Remembrance Day display will feature artefacts from the First World War and commemorate members of Canada's armed forces who have died in the line of duty in all wars.

30 Years of Theatre in Richmond
November 18, 2014 - February 10, 2015
The Gateway Theatre, Richmond's only live professional theatre and Metro Vancouver's second largest theatre company, is celebrating three decades of brilliant theatre in Richmond.  Props, programs and other precious items from this well-loved theatre's history are displayed, providing an intimate glimpse behind the curtain.