Minoru Chapel
Chapel in the Park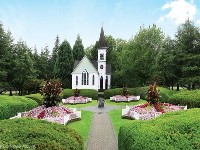 Minoru Chapel
   6540 Gilbert Road
Richmond, BC V7C 3V4
  To rent or view: 604-687-7068
  Email: minoru@thechapels.ca 


 Minoru Chapel Location Map
Take a virtual tour of
Minoru Chapel
Minoru Chapel is available for

:

Weddings 
Renewal of wedding vows
Funerals/Memorials
Baptisms
Services of Spiritual nature
Quiet prayer time
Filming Movies/Commercials
Minoru Chapel is wheelchair accessible and has an accessible washroom. Seating capacity is 120 persons. Some decor is included in the rental fee. Attendant services are provided by: The Chapel at Minoru Park Enterprise Inc.

The Minoru Chapel is currently closed for restoration and will re-open in May of 2015.  If you are interested in booking the Chapel after May 2015, please contact 604-687-7068 or email minoru@thechapels.ca. 


The Chapel is located on the west side of Minoru Park. See the City Centre Area Map for an overview of the area or download the Minoru Chapel site map for more detailed information.

The popular Minoru Chapel Opera series will return in the fall of 2015, taking a break during the period of restoration work to the chapel.  If you wish to be notified when the series returns, please email communityservices@richmond.ca.

Booking Information
For information on booking or viewing the Minoru Chapel, please call The Chapel at Minoru Park Enterprise Inc at 604-687-7068 or email minoru@thechapels.ca