People Development
Leadership and Education Centre
People,  Innovation through Collaboration,  Vision,   
Outstanding Results, Team 
RU… ready for the career of your dreams?
| | |
| --- | --- |
| | "Our department's greatest contribution to the community is the excellent level of service we provide to the public.  We're a top-notch fire department with equipment and training to go with that.  Residents can rest assured they are taken care of." |
Our Corporate Leadership and Education Centre provides a wide variety of training for City staff including soft skills and technical skills in communication, team building, blueprint reading and supervising. Employees are encouraged to broaden their educational horizons by taking courses. Academic credits are provided for some courses offered internally.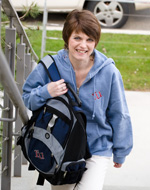 "The training I have received at the City has been exceptional. There are many different types of training/courses offered throughout the year. Class sizes are small and the level of the instructors is high.  I feel I have received excellent training at the City, which has enhanced my career goals."


The City of Richmond also offers financial support for other academic endeavours including individual development training taken on an employee's own time for the purpose of career advancement. City staff members are encouraged to attend outside seminars and conferences to broaden their experience, enhance their network, and contribute to the City of Richmond's overall development as a progressive and innovative municipality.